Surveillance & Fleet Management
Surveillance & Fleet Management
In the U.S., 99% of drivers who received and paid one ticket for illegally passing a school bus did not get a second. (Verra Mobility)
Elevate the safety and security of your passengers and fleet. Know more about your fleet to improve its day-to-day operations and efficiency. Save time and money, reduce stress and increase awareness of what's happening in and around your vehicles with REI transportation surveillance and fleet management solutions. Our roster includes durable, advanced hardware and innovative software which may be easily integrated and customized to meet your fleet's unique needs.
Peace of mind is everything. Rest easy knowing critical, event details are reliably recorded and stored on REI HD5 Series DVRs. Connect up to 12 surveillance cameras for total video coverage in and around your vehicle. Capture 1080p video and audio on removable hard drives and SD cards for easy review. Lightweight, compact, and durable, REI DVRs are built and tested to endure years of consistent use.
Verify events and see what's happening inside and outside your vehicles with greater clarity. Enhance the protection of passengers, drivers and vehicles with durable, high-resolution REI surveillance cameras. Features like ultra-wide-angle lenses provide up to 180˚ views so you see more with fewer cameras. Customize your surveillance system with several available options.
Vehicle Management Software (VMS)
Simplify fleet management. Promote passenger safety and security. Analyze, report and monitor details with ease. REI's VMS software is your all-in-one source for surveillance views and vehicle data. Complimentary with your mobile surveillance system purchase, VMS provides easy access to recorded events, bus route details, GPS coordinates, DVR health status and other factors affecting the efficiency and safety of your fleet.
Minimize time spent on fleet operations and surveillance. Manage fleet details about efficiency, safety and productivity wirelessly on your handheld device. Using ARMOR's customizable modules, you'll have easy access to fleet specifics anytime, anywhere there's an internet connection.
Among ARMOR's capabilities: 
Vehicle tracking
Student ridership details
Contact tracing
Automated health checks of vehicles
Automated video downloads
Driver performance reports
Real-time data and surveillance views are just taps away on your wireless devices.
No time for server management? REI's ARMOR Cloud service will manage your ARMOR data, software updates and scalability for you. Maximize uptime, while minimizing your infrastructure and IT resources
Track buses in real time. Receive alerts about deviations from normal bus routes. Resolve parent and school concerns quickly with real-time reporting of student boarding and drop-off times. ARMOR Student is your go-to, online source for critical student ridership details. Part of REI's ARMOR Software Suite, ARMOR Student allows administration to view, record and download video of incidents thanks to ARMOR's video surveillance capabilities.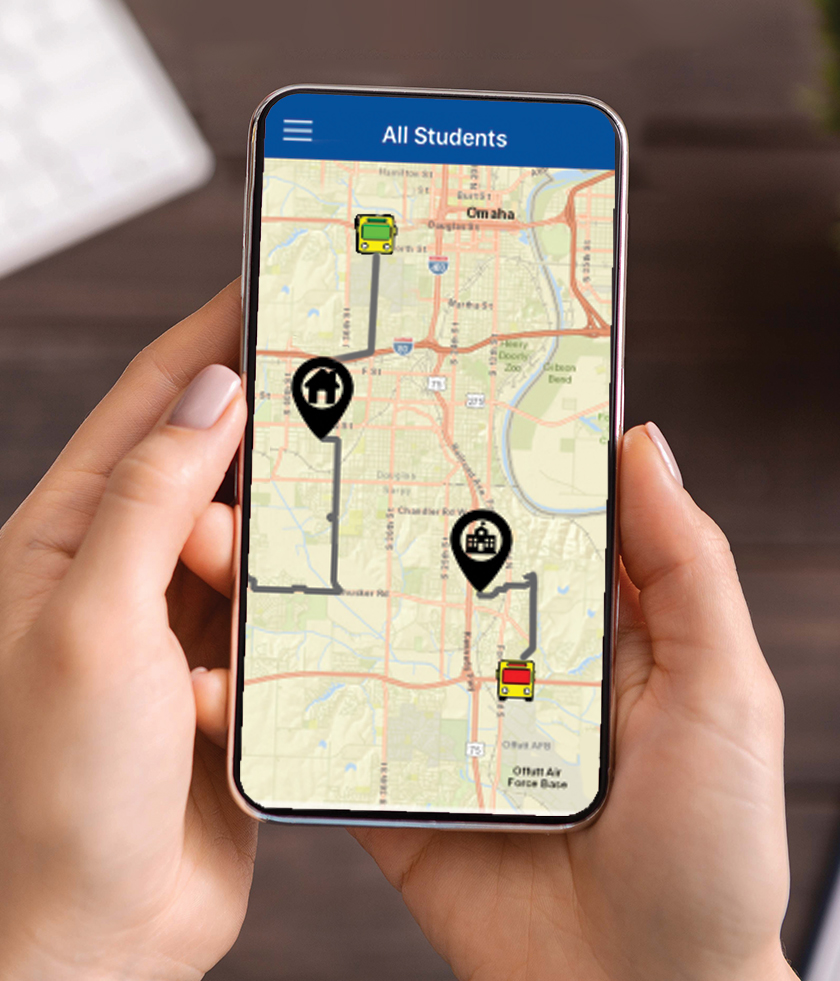 Ease the bus-stop worries of parents and students. Help them better plan their days with school bus ETA notifications and map views of buses en route. Offer them REI's Bus Tracker app. This convenient app for parents and students provides many student ridership details, like boarding and drop-off confirmations. Users are able to access details via their mobile devices, minimizing their phone calls to schools.
ARMOR™ Driver Mobile Data Terminal (MDT)
Give drivers access to critical student ridership and bus tracking details. Keep them updated about changes to their daily schedules. Equip them with REI's portable and dockable Mobile Data Terminal. The durable MDT offers real-time information related to bus routes, daily stops, student status, event marker presses, trip checklists and more to provide greater peace of mind.
Stop-Arm Camera Solutions
Protect students around stopped buses. See vehicles passing stop-arms illegally. Capture stop-arm violations and deter future occurrences with REI Stop-Arm solutions. Count on them to capture violation details, day or night. Our solutions see past glaring headlights to record violators' license plates in crystal-clear, high definition. You'll have indisputable proof to submit to law enforcement if warranted.
3D 360° Surround View Camera System
Enhance visibility for drivers during lane changes, parking and turns – day or night. Equip them with panoramic, bird's-eye and 3D views to see what's in the vicinity. With our 360° System, you'll attain unprecedented coverage to help drivers avoid collisions and maneuver in tight spaces. Views change dynamically based on the reverse and turn signals selected.