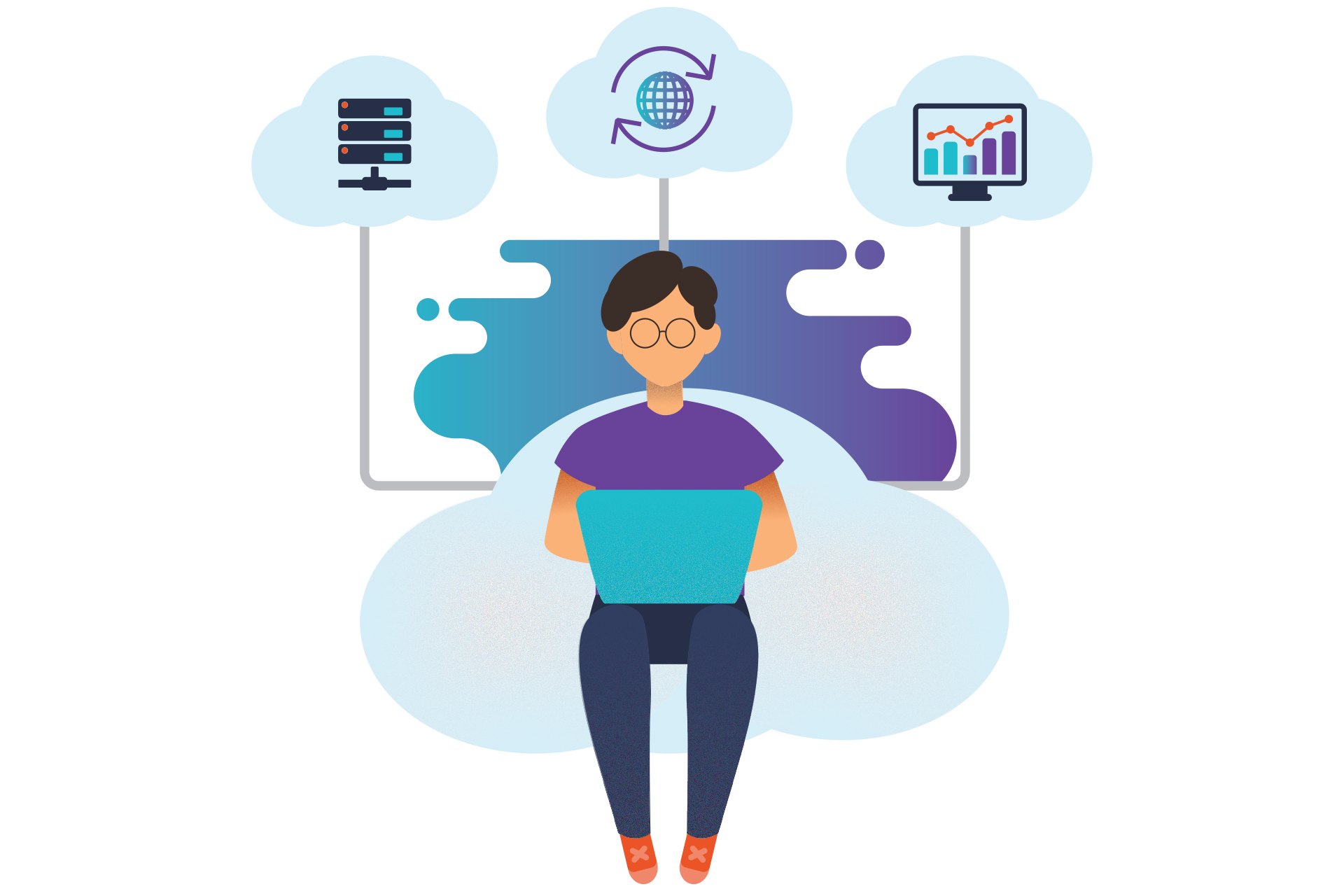 Today's cloud-based fleet management software captures volumes of information. It also demands server management and data storage capabilities. However, bus operations may lack the know-how and IT infrastructure. The answer: a cloud service.
Reliance on the cloud for data storage continues to grow. Why? Because companies want to capitalize on its many benefits. In fact, the cloud offers so many benefits it is used to store most corporate data.
Among the corporate data are fleet analytics and bus camera system video from REI's ARMOR™ Software Suite. Many ARMOR customers (64%) use REI's optional ARMOR Cloud, a cloud service, for data storage and server management. Why should you choose it for your ARMOR cloud-based fleet management software? Read the ten reasons outlined below.
1. ARMOR Cloud saves and backs up data and video.
ARMOR Software Suite generates vast amounts of data, plus video from REI cameras. It could be lost or damaged during electrical storms and power outages. With this in mind, ARMOR Cloud backs up your server.
2. 24/7/365 access to fleet management surveillance video and data.
ARMOR Cloud permits nonstop access to downloaded data and video from your ARMOR fleet management software. Even more, internet-connected devices enable access from anywhere.
Taylor Moore, ARMOR product and engagement manager, explains, "ARMOR engages several modules and data collected by sensors, hardware, and automation. This prompts notifications, reports, and video. Accessing this information in a timely manner speeds up everything. What's more, administration can become more efficient and effective in safety, fleet health, and operations management. Overall, the service benefits every member of a district, including students, in some way."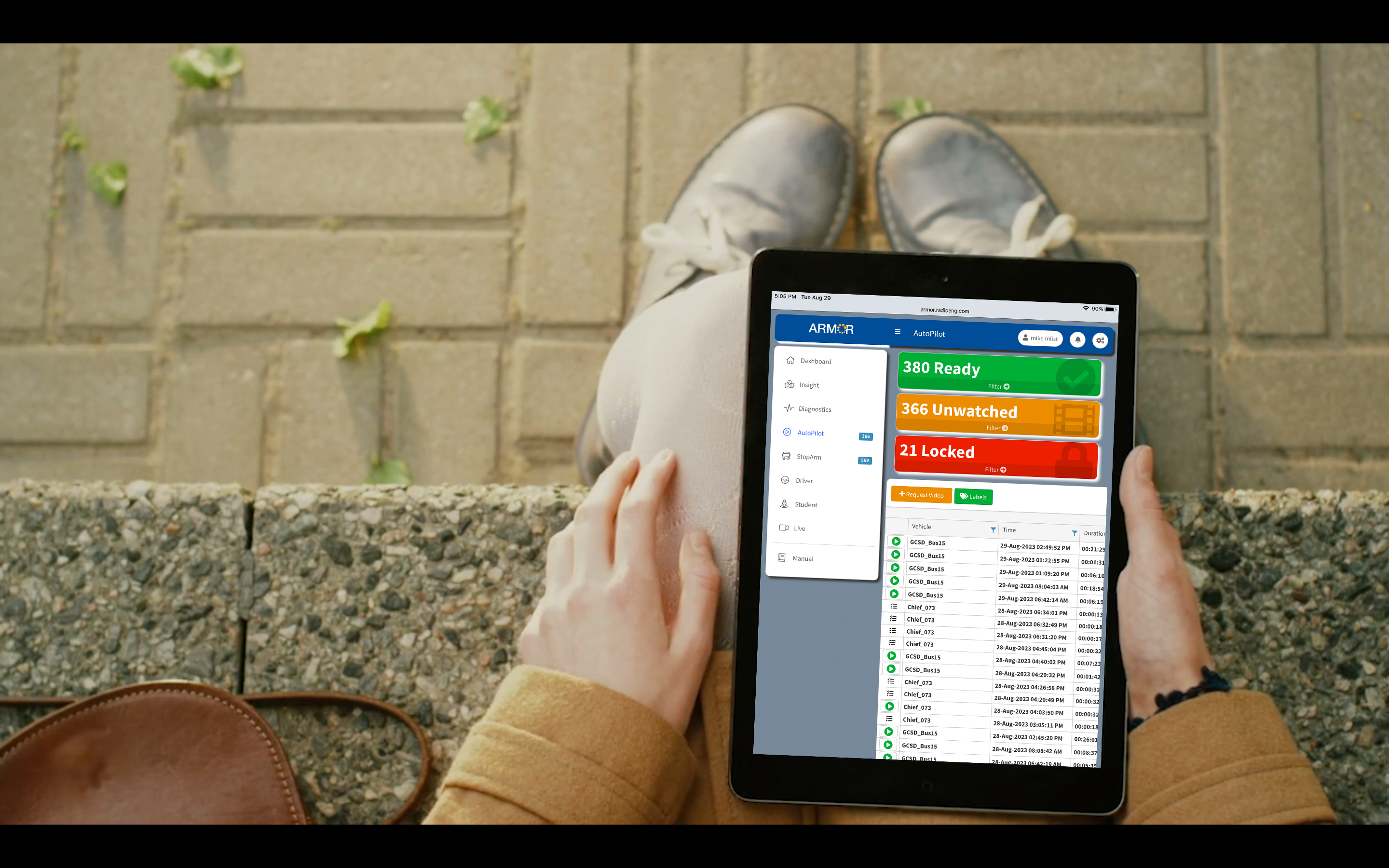 Access your ARMOR server 24/7.
3. Transition to the cloud is easy.
ARMOR Cloud is turnkey. In other words, it transfers data and video from your REI bus DVR to the cloud for you.
Cloud computing requires a short learning curve. In fact, ARMOR Cloud users only need a few steps to log in to their ARMOR servers.
5. Convenience and security.
REI's IT staff manages your ARMOR Software Suite server. This includes scalability, software updates, and security. In short, ARMOR Cloud eliminates or reduces server duties for your IT resources.
REI's ARMOR Cloud service stores and manages fleet statistics and videos from your bus camera systems for you. Therefore, the service reduces IT needs. For this reason, you save some staff and hardware costs.

Simplify fleet video management with ARMOR Cloud.
Your cloud-based fleet management software collects a lot of data and video. ARMOR Cloud service provides the server and manages the information for you. Basically, it frees up time for you and your IT staff. As a result, you have more time to do other key tasks.
8. Greater peace of mind.
Rest easier knowing pros take care of your server. Consequently, they lighten your workload and help ensure peak server performance. Therefore, you stress less.
REI manages your server's size and upgrades. Hence, fewer responsibilities for you and your staff.
ARMOR Cloud service tracks server performance and makes sure your server works properly. Reliable performance means increased uptime and less downtime. Overall, your operation becomes more efficient.
As has been noted, ARMOR Cloud eases fleet video management in many ways. To learn more about this cloud service, request information or a demo. Moreover, see how it could enhance your cloud-based fleet management software.
To summarize, Moore adds, "If there's one word that sums up ARMOR Cloud, it's accessibility. The service provides remote access to your fleet data and video, 24/7/365. It's a real game-changer for time-strapped bus operations."
Billions of users now rely on the cloud. On the whole, it makes their work easier. Cloud computing with ARMOR Cloud service can do the same for you, too.