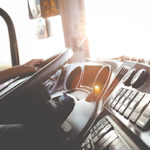 Today's complex, intelligent technology is enhancing and advancing transportation like never before. Besides redefining existing infotainment systems for passengers, our motor coach and tour bus cameras, driver assistance, and PA system technology are introducing new concepts in safety, surveillance, troubleshooting and reporting to assist drivers and owner/operators—all from a single, central console.
What are these recent advancements? Are they easily integrated into your motorcoach or transit bus operations? What are the benefits? REI has the answers.
An Omaha, Nebraska-based engineering and manufacturing company, REI specializes in high-tech electronics for the global transportation industry, including motor coach and tour bus cameras, driver assistance, and PA system technology. Dave Chavez, senior electronics systems engineer at REI, notes, "Technology is advancing rapidly, and vehicles are becoming smarter, more connected, safer and easier to use. We collaborate with OEMs and partners around the world as we research and develop our motor coach and tour bus cameras, driver assistance, and PA system applications. The advancements and trends in intelligent technology that we're creating now are taking us one step closer to artificial intelligence."
Among REI's complex solutions elevating travel experiences for today's drivers, passengers and owner/operators: a touch-screen multimedia player and a 360-degree camera observation system with radar object detection. Each of our motor coach and tour bus cameras, driver assistance systems, PA systems, and more of our equipment is engineered explicitly to communicate with vehicles' existing onboard computers to facilitate easy integration, operation and performance.
ECVR-6700T Multimedia Radio
The nerve center of REI integration, the new ECVR-6700T Multimedia Radio is a centralized, touch screen-controlled, human-to-machine interface (HMI) allowing complete, simple and seamless operation of all subsystems for drivers and passengers. In addition to driver features like dual-zone A/V controls, dual-zone Bluetooth pairing, a large 6.2-inch display and an HDMI switch option for 1080p playback, the ECVR-6700T offers HD views and notifications provided by optional, integrated advanced driver-assistance systems (ADAS). Back-up views, 360-degree views, audio/visual alerts and radar are just a few examples.
Scott Hays, president of REI, adds, "Drivers contend with a multitude of uncontrollable variables at any given moment. Whether it's watching for other motorists, vehicle health issues or keeping passengers happy, our ECVR-6700T monitors, detects, records, reports and displays crucial details for drivers, all from one convenient system. Its integrated capabilities are true advancements in transportation surveillance and infotainment."
When integrated with onboard high-definition monitors and REI's MP-5000HD Digital Media Player with GPS and passenger safety messaging, this unit delivers vivid, GPS-automated events and announcements.
3D 360˚ HD Surround View Camera System with Radar Object Detection
Among the ECVR-6700T's features is its ability to display driver-assisted views, including those captured by REI's 3D 360˚ HD Surround View Camera System. Integrating camera observation with radar object detection and a J1939 CAN-bus interface for easier installation, the system provides advanced, driver-assisted views for parking, turns and lane changes. This radar-based system makes intuitive, adaptive guidelines possible, allowing drivers to view and compensate for tail-swing in difficult situations.
"The in-dash 6700T puts owner/operators, drivers and passengers at the forefront of complex, integrated technology," states Hays. "It may be retrofitted in the field or installed by manufacturers. More importantly, it elevates passenger and driver safety and infotainment to new levels."