Advanced Surveillance Solutions for School Buses, Motorcoaches, Transit Vehicles, Commercial Trucks, Fleets, & Ag Equipment
Effective backup cameras help reduce collision risks on roads, in parking lots, at jobsites and other spaces. A driver behind the wheel of a bus or truck has limited visibility while backing up. They may be unable to come to a quick stop. This can create a hazardous situation even when moving at a slow speed.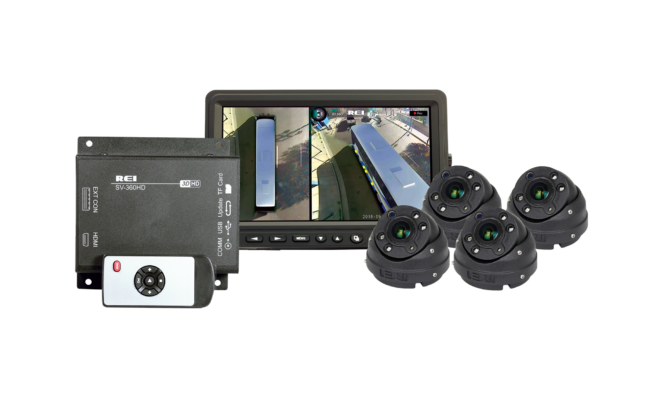 REI offers a selection of backup cameras for buses to help prevent collisions and protect drivers, passengers, and vehicles. Our camera systems are made of top-quality materials for durability. They can provide HD views of what's behind vehicles or full-coverage, surround views from a 360 camera system. Some camera system features and benefits include:
Dynamic views – Views change based on turning direction and reverse gear, giving drivers better visibility while in motion.
Day & night visibility – Views are clearly seen day or night and enhance protection for pedestrians and other vehicles.
Heavy-duty engineering – Our high-definition backup cameras for buses are built to withstand vibrations and extreme weather, ensuring reliable views and long-term use.
Recording capabilities – Capture audio and video when a backup camera system is integrated with an REI mobile DVR. The recorded images and sound offer proof of collisions and may be used to resolve disputes.
Bus & Truck Safety Solutions from REI

Safety solutions and backup cameras for buses can boost drivers' and administration's peace of mind. Let REI's experts help you find the right products and solutions for your safety goals. Whether you need to protect buses, ag equipment or commercial trucks, our solutions provide critical HD views.
Tell us your needs and challenges. We'll recommend backup cameras for buses to boost driver, passenger, and fleet safety. The REI team can also review your operations and identify ways to improve blind spot detection. Contact us today to learn more about our bus and truck safety solutions.