Irvine School Bus Surveillance Products
Protecting Irvine Bus Drivers and Students
Many students throughout Irvine depend on the safety and reliability of school bus transportation. Orange County school bus drivers often face a variety of challenges while on the job, such as traffic delays and unsafe drivers. Local traffic laws are put in place to protect students and bus drivers, but accidents and security incidents are always possibilities. School bus surveillance products from REI are designed with innovative technology to mitigate these risks and help enhance vehicle safety for students and drivers in Irvine.
In the U.S., 99% of drivers who received and paid one ticket for illegally passing an extended school bus stop arm did not get a second. (Verra Mobility)
Simplify Fleet Management with ARMOR Software Suite
Recording, storing, and viewing event video and fleet data is easy with our web-based ARMOR Software Suite. Your downloaded video and data are accessible 24/7 for viewing and sharing when needed with internet-connected devices. ARMOR allows you to quickly identify and manage fleet inefficiencies, stop-arm violations, and other safety matters. ARMOR may be integrated with manual or automated stop-arm solutions and managed in the cloud by REI. The suite also features timesaving capabilities such as live bus tracking, automatic event notifications, and automated driver performance reports.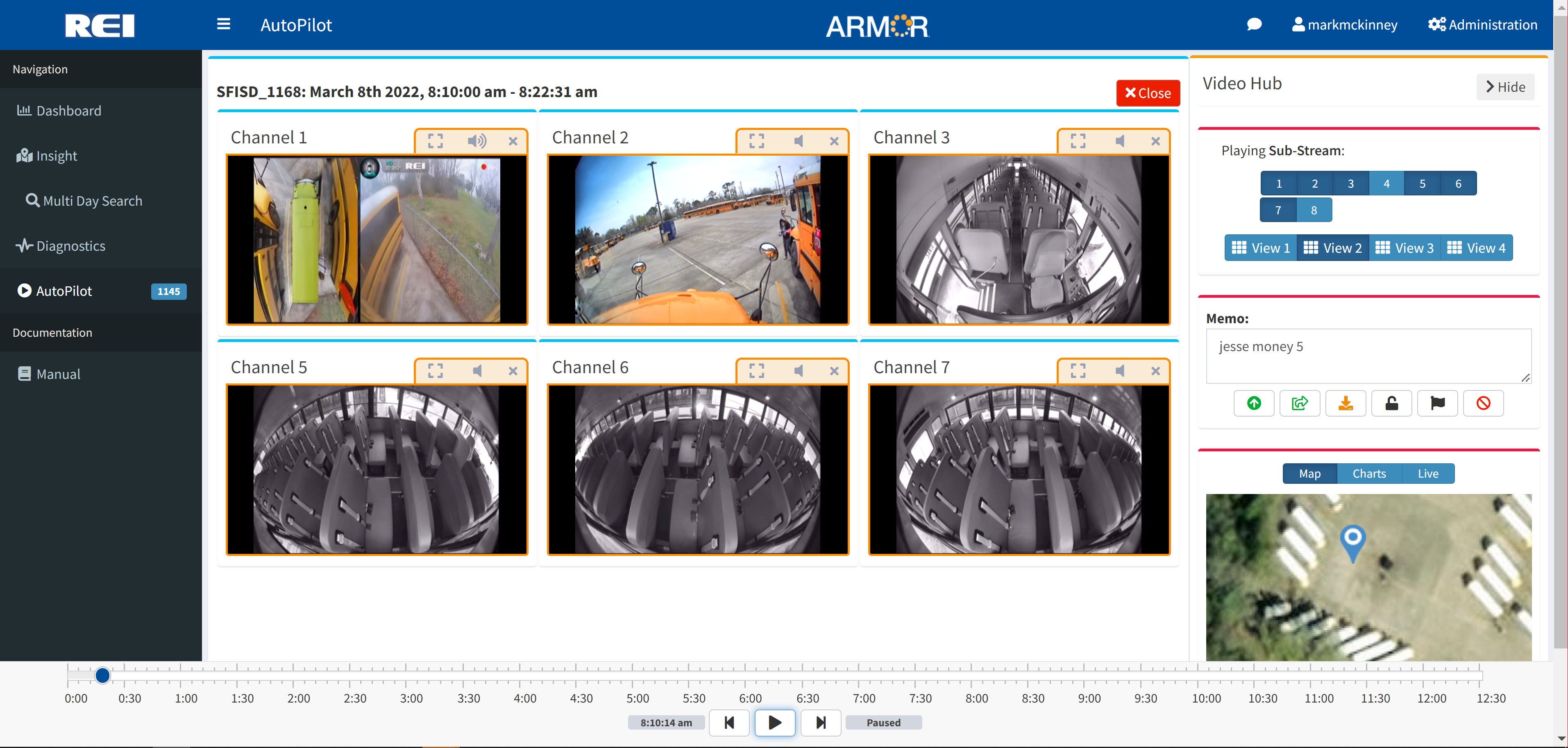 Capture Critical Fleet Data and Video in Irvine With Stop-Arm Cameras and School Bus Surveillance
Stop-arms are critical for school bus safety. Unfortunately, the illegal passing of extended stop-arms is common among negligent drivers. When drivers ignore stop-arms and put students at risk, REI cameras can capture the violations in crystal-clear HD. We offer both automated and manual stop-arm solutions, which provide you with clear license plate images to give to law enforcement if necessary. Our stop-arm cameras and school bus surveillance cameras for Irvine fleets are often integrated with the ARMOR Software Suite to support an all-in-one school bus safety system.
Reliable School Bus Surveillance Products From REI
School bus surveillance in Irvine can be challenging to navigate, so let the experts at REI design an easy-to-use system for your fleet. We'll evaluate your unique challenges and needs to ensure that your system is effective at mitigating risk. If you're ready to learn more about our line of stop-arm cameras, ARMOR Software Suite, and surveillance products, contact us today to get started!